Baby Spoon Bottle, Baby Spoon Bottle Feeder, Baby Bottle Squeezer
Baby spoon bottle feeder is highly recommended as one of your new self-feeder's baby feeding utensils. Especially at around 5 or 6 months, it's good time to feed auxiliary food. The traditional way of feeding auxiliary food is either knocking over the bowl or busy feeding, which can't give parents a moment to rest. In an effort to make it easier for parents to feed baby, Anpei has developed a new baby squeeze spoon integrating spoon and bottle together to fit the needs of parents. With that, you can feed gracefully and easily.
The features of baby food spoon bottle:
Stand-up design: Spillproof spoon bottle with suction cup design can prevent food spills and allow you to settle down unexpected affairs during the period of feeding baby.
Baby food grade silicone: Made of food grade PP and silicone, it's non-toxic, BPA free and completely safe. What's more, silicone spoon bottle is soft enough that cannot scratch the baby's mouth.
Squeezable silicone bottle with scale: Squeeze feeding bottle with scale can effectively control the intake in case of choking. Furthermore, it can exercise child's self-feeding ability.
Tight sealing: To prevent leakage, baby feeding bottle with spoon is designed with a tight sealing cover around cap neck, which also facilitates outdoor use such as travel.
Anti-lost: Silicone baby feeding bottle with spoon comes with a pacifier clip clipped to the stroller or child's clothes in case of loss.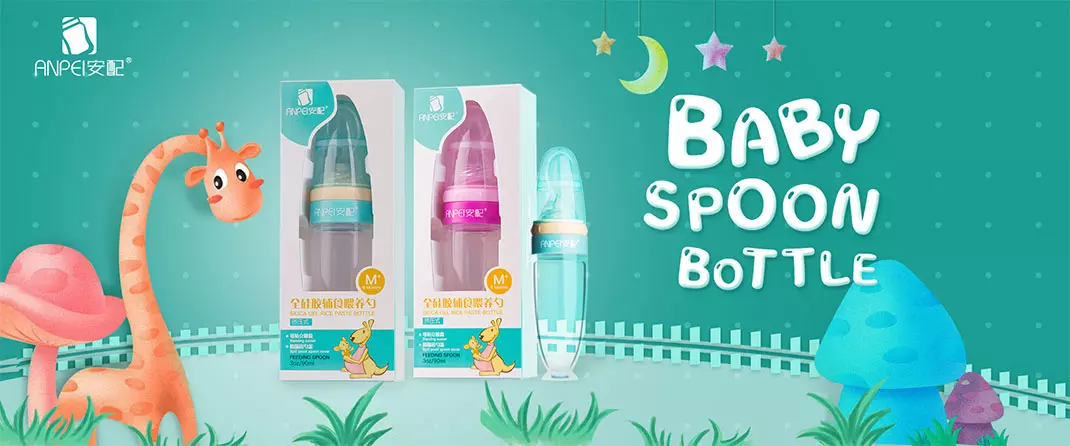 Final Words

Are you still looking for a self-feeding item to train your baby? As referenced beforehand, our baby spoon bottle feeder is your great choice. Your satisfaction is our top priority.

Tags: Baby Bottle Squeezer, Baby Spoon Bottle, Baby Spoon Bottle Feeder, Silicone baby feeding bottle with spoon