Sure, the baby feeding bottle with spoon can sooth both mom and baby, but not everyone's fan. There are various options open to you when it comes to baby spoon bottle feeder. Facing a huge baby feeding products, it can be hard to figure out which is the best feeding bottle for newborn and where to start to select.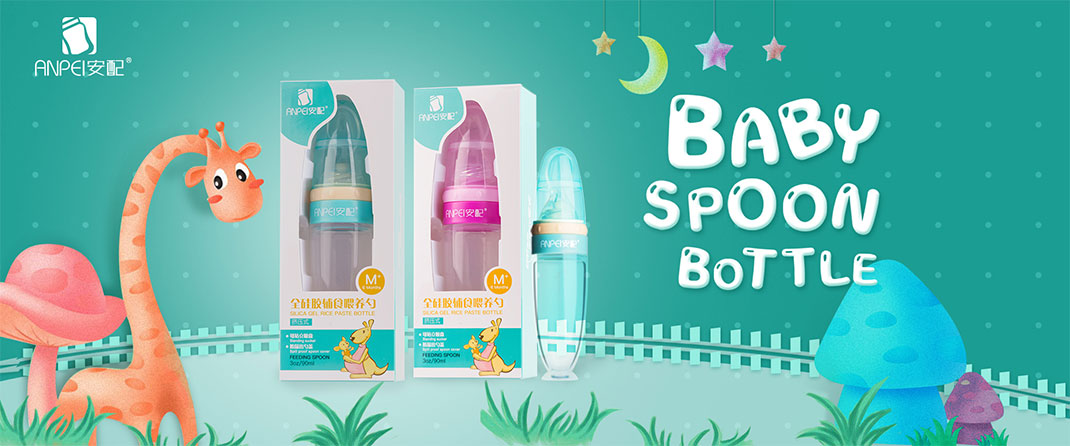 In recent years, we have seen a crowd of baby bottle wholesalers, constantly polish their best baby bottle brands, and open up the market through personalized service ability and high-quality material, etc. Among them is AP Babys, which is committed to innovatively designing the best infant bottles to meet the market demand and strive to stand out from many competitors. Following are the competitive edges of silicone baby feeding bottle with spoon from AP Babys.
Made of food-grade soft silicone, the baby bottles are non-toxic, light and transparent. Other than that, it is not easily broken.
Baby spoon bottle feeder integrates spoon and bottle together. With that, a person can also feed with ease and elegance.
Rice paste spoon is made of soft silica gel which is odor free, BPA free, soft bite resistance, high temperature resistance. What's more, rice paste spoon is unable to scratch the baby's mouth because of its very soft.
One-hand operation, labor-saving.
Baby bottle with spoon is multi-purpose, which can be used to feed the rice paste, vegetable mud, fruit mud, etc.
With standing cup design, the bottom of the bottle can stand on the table to prevent food from spilling.
The feeding amount of the baby is visible, and the scale on the transparent bottle keeps track of the feeding amount of the baby at any time.
Are you in the market for the best baby bottles 2021? Here you don't need to be entangled with where and how to buy baby bottle aimlessly when looking through this blog. We are providing the bulk baby bottles for you, feeding bottle with spoon price is also affordable here!!!

Tags: Best baby bottle brands, Best Baby Bottles 2021, Best Feeding Bottle for Newborn, Feeding bottle with spoon price