360-
Degree waterproof ppsu baby straw cup
Dettaglio di u Produttu
Feedback avà
360-Degree waterproof ppsu baby straw cup

Biberon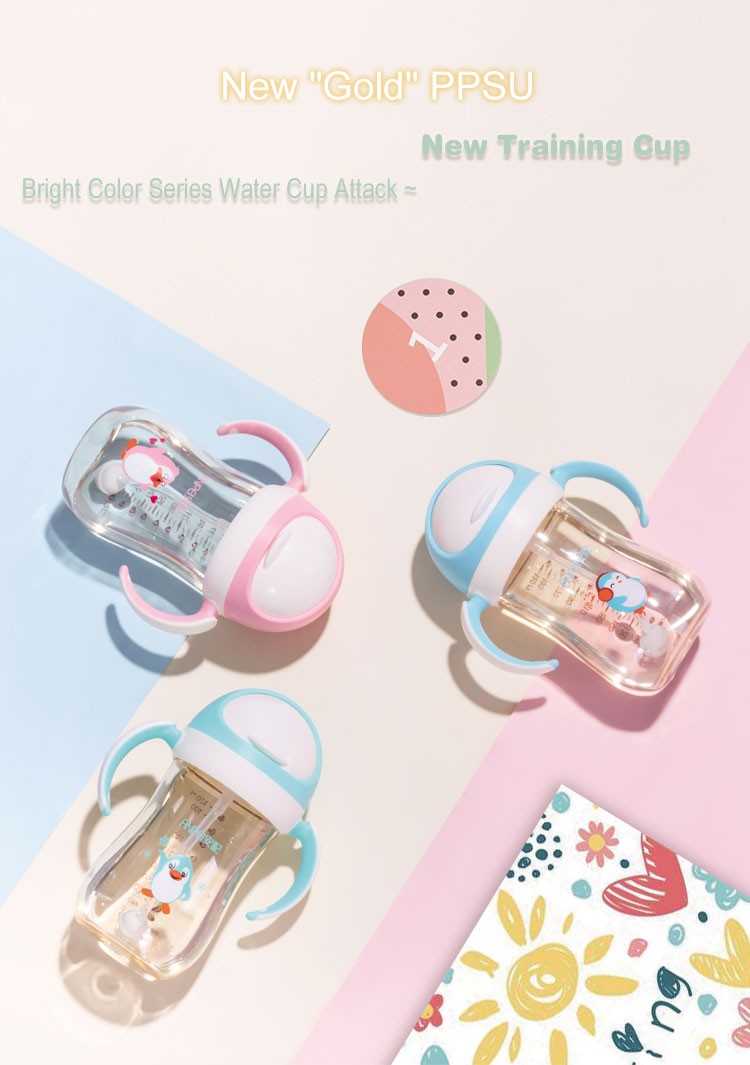 Novu "PPSU", gorgeous water cup series color attack.The water cup is made of PPSU material, which is shockproof, wear-resistant and not easy to scratch.It is called the "golden material of plastics".It has high temperature resistance 180°C not deformation of heat resistance characteristics, can be boiled water, disinfection cabinet for disinfection, the new v-shaped suction pipe, to prevent the direct outflow of water.Free control of water flow speed, the baby will adjust the size of the water through occluding force, arbitrary Angle inverted also no water leakage, the mother is more assured, prevent flatulence, baby drinking water more easily.
Parametru di produttu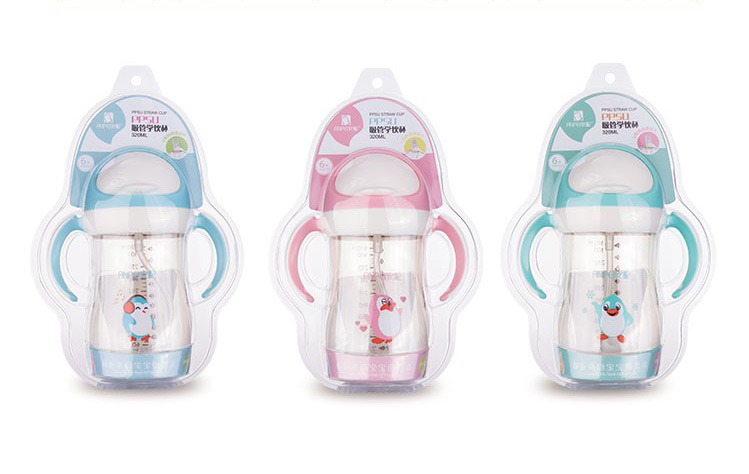 Materiale

Silica Gel

,

PPSU

,

PP

,

stainless steel

Capacity

320

ml

Culore

Pink

,

blue

,Verde
Pesu
168g
Pacchettu
Oppbag, saccu di plasticu, blister + carta di carta, scatula di culore, persunalizabile
Pagamentu
TT, Paypal, ali creditu, unione occidentale, MoneyGram
Certificati
Certificazione naziunale di qualità alimentaria, pò furnisce requisiti di certificazione in ogni locu
Spedizioni:
7~ 15days tempu piombu. Da DHL / TNT / FedEx express, trasportu aereu ecc.
Cunsegna & Serviziu:
Consegna puntuale ogni volta. Fornite un serviziu affidabile è rispunsevule per ogni cliente cù ogni pruduttu. U nostru scopu hè di suddisfà ogni cliente cù u megliu serviziu.
Applicazioni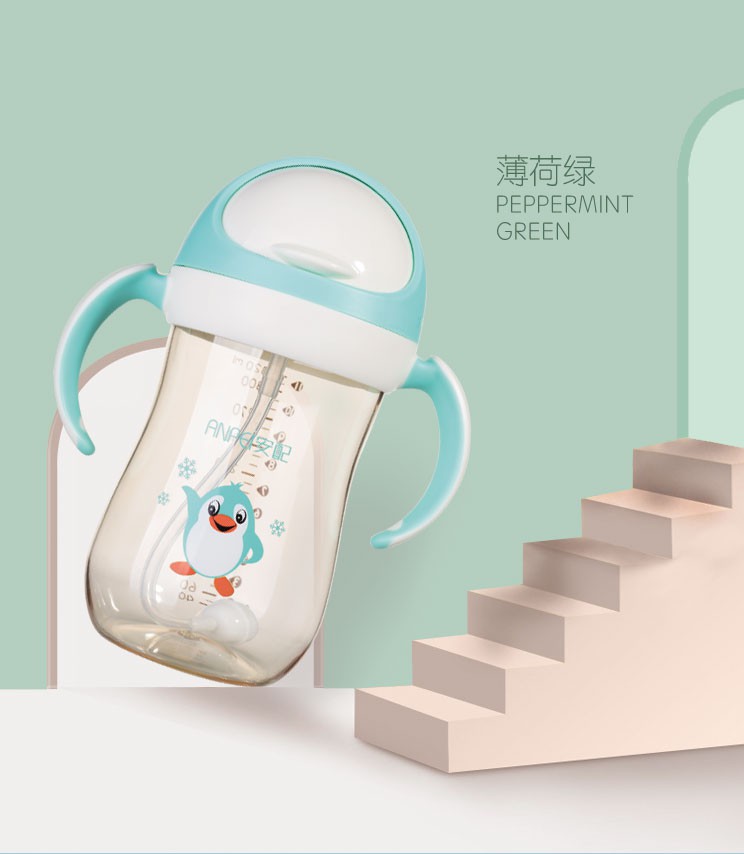 Learning to drink cup can not only help the baby practice drinking water, but also can promote the baby's development, exercise the baby's coordination ability.Generally speaking half a year or so of the baby can use learn to drink cup to drink water, learn to drink cup can help the baby quickly learn to drink water to drink juice and other movements.
Vantaghji prodottu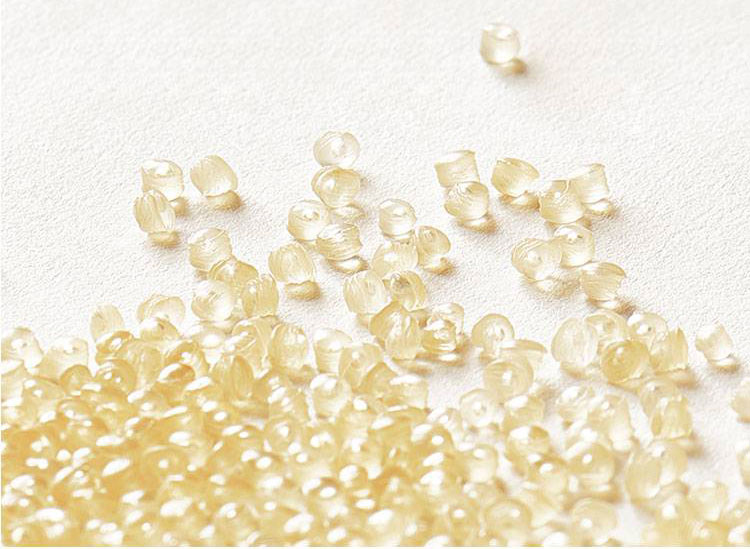 1.PPSU material is shock-resistant, wear-resistant and not easy to scratch, which is known as "the gold material among plastics".It has a high temperature resistance of 180°C not deformation of heat resistance characteristics, can be boiled water, disinfection cabinet for disinfection.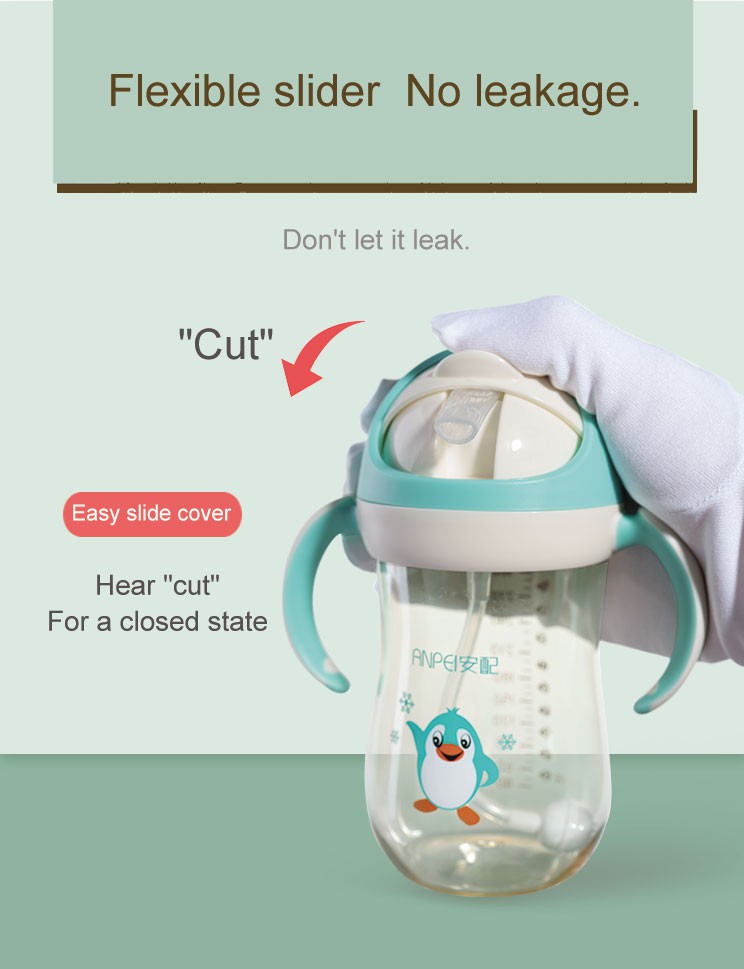 The new v-type suction pipe prevents the water from flowing out directly

Freely control the water flow rate

,

and the baby will adjust the size of the water through occlusal force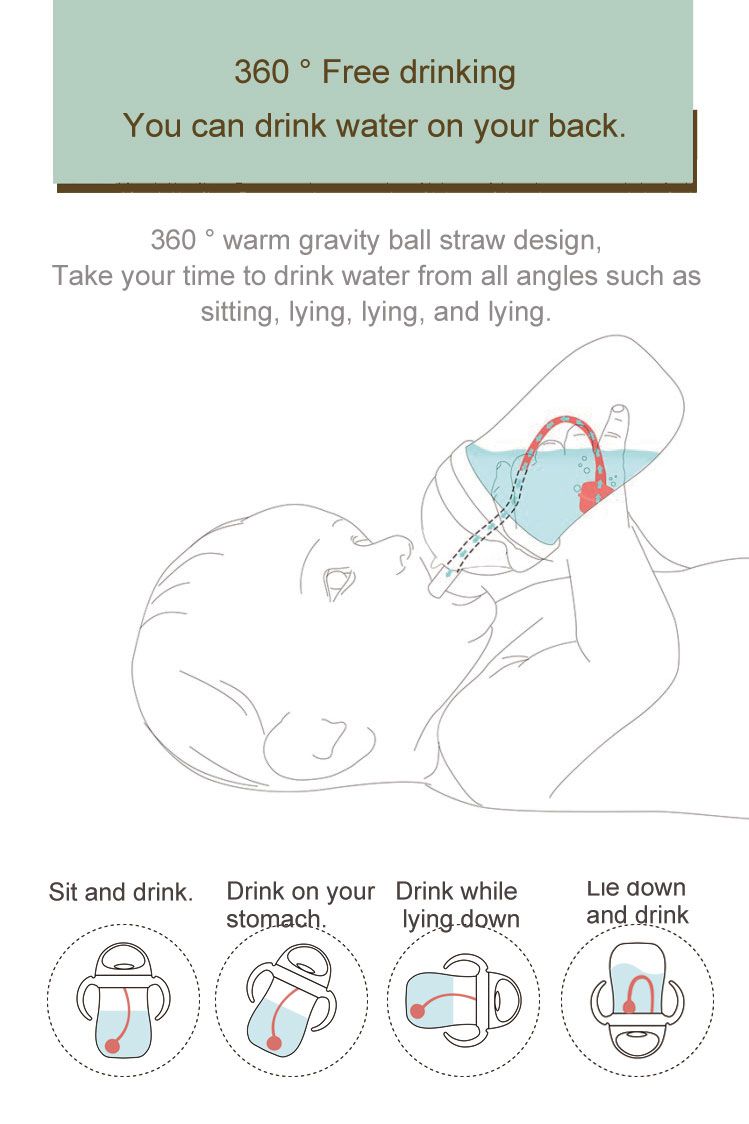 Before sucking

,

the straw can be closed without leakage

.

When biting lightly

,

the straw can be opened to absorb water without choking
5.360° free drinking can also drink water lying down, gravity ball and straw design, calmly deal with the baby sitting, lying, lying, lying, and other angles of drinking water.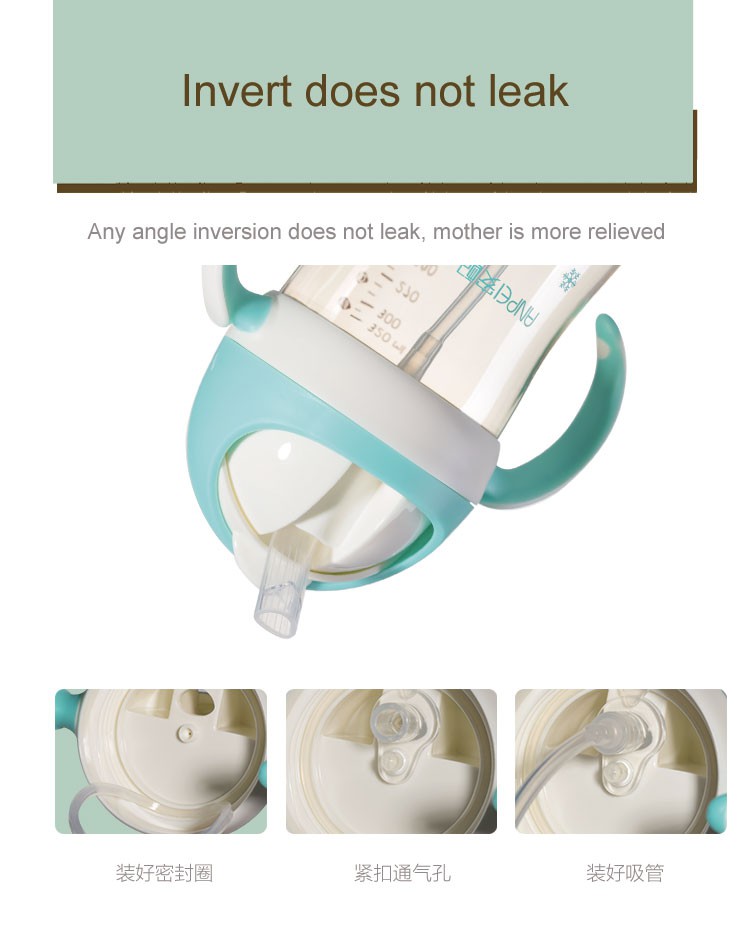 No water is leaking when inverted

,

and no water is leaking when inverted at any Angle

.

Mom is more assured

.

Prevent flatulence and make drinking water easier for your baby.Circulate air to prevent bloating and drink water easily and smoothly

.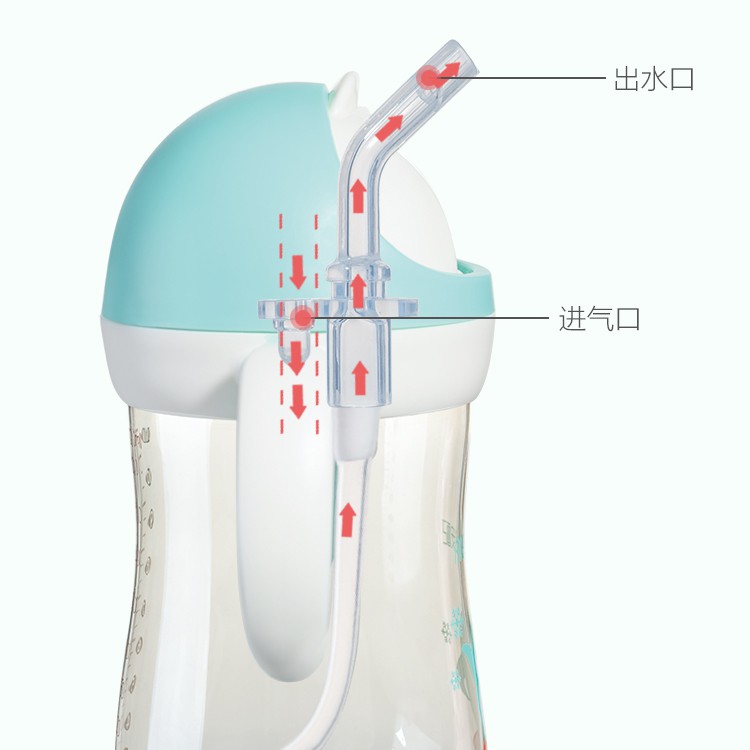 The curved handle makes it easier for the baby to grasp.Ergonomic design

,

reduce the baby's wrist bending when drinking water intimate

The flexible sliding cover is watertight and does not leak if it shakes at will

.

When the

"

click

"

sound is heard

,

the sliding cover is closed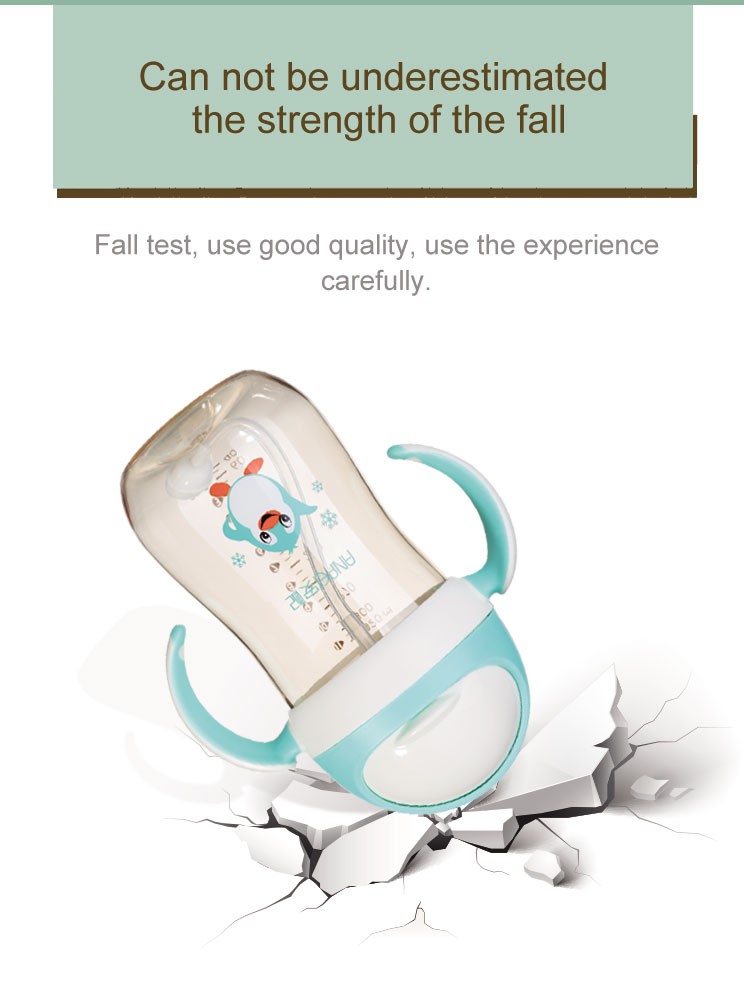 Not to be underestimated the strength of anti-fall

,

fall test

,

with good quality

,

careful use experience

.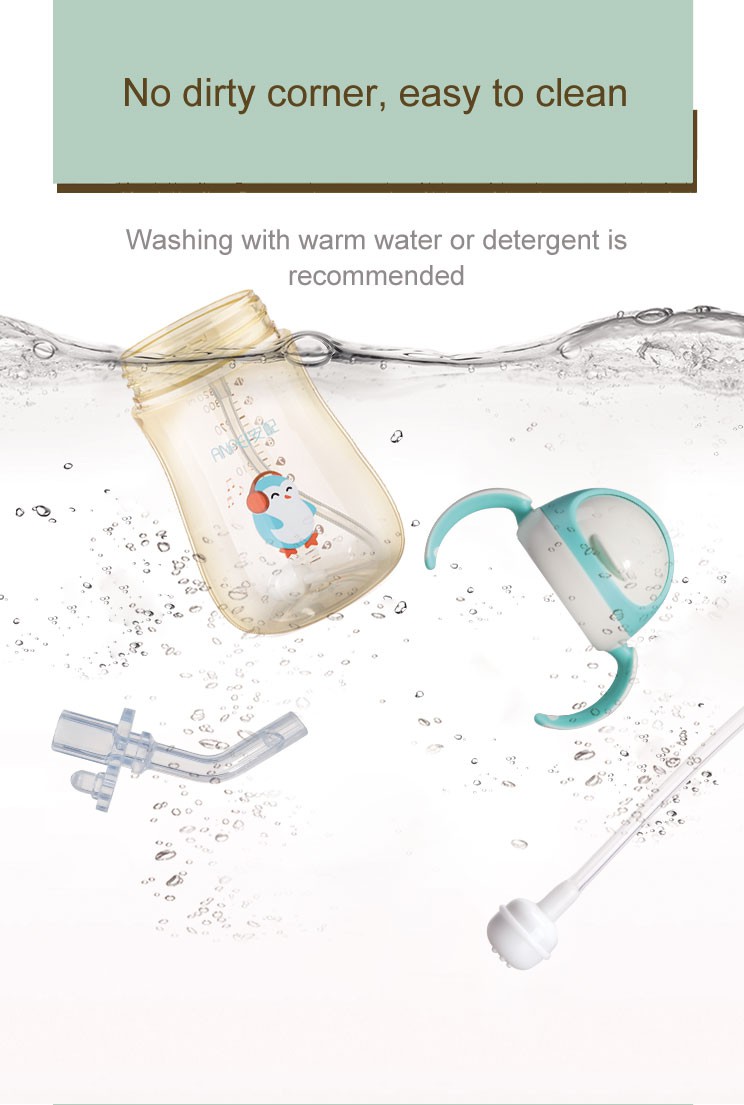 It is easy to clean with no dead corner of pollution

.

It is recommended to use warm water or detergent to clean
Assicuranza di qualità

Tutti i prudutti prototipi devenu passà 4 cuntrolli in tuttu u prucessu:
1. Ispezzione di materia prima
2. In l'ispezione di trasfurmazione
3. Ispezzione finale
4. Ispezzione in uscita
FAQ

1.Site una sucietà commerciale o un produttore?
A:Semu un fabricatore prufessiunale cun più di 10 anni sperienze.
2.Possu visità a vostra fabbrica prima di l'ordine?
A:Iè, benvenuti à visità a nostra fabbrica.
3.Cumu cuntrollà a qualità di i prudutti?
A:Avemu sempre messu una grande enfasi nantu à u cuntrollu di qualità per assicurà chì u livellu di qualità eccellente sia mantenutu, u principiu chì mantenemu sempre hè "per furnisce à i clienti una migliore qualità, megliu prezzu è megliu serviziu".
4.Pudete mandà campione per noi?
A:Iè, pudemu mandà un campione gratuitamente, ma u trasportu di merci.
5.Pudete accettà un picculu ordine?
A:Iè, pudemu accettà ordini di prova, it is the startingof business. But according to different productthe price may be higher as normal quantity.
Cuntatta ci.
A: Pudete cuntattateci per e-mail
Mandate u vostru messagiu: