Food-grade bisphenol a-free silicone antireflux nasal aspirator for infants
Dettaglio di u Produttu
Feedback avà
Tritan ultra wide diameter anti-flatulence baby bottle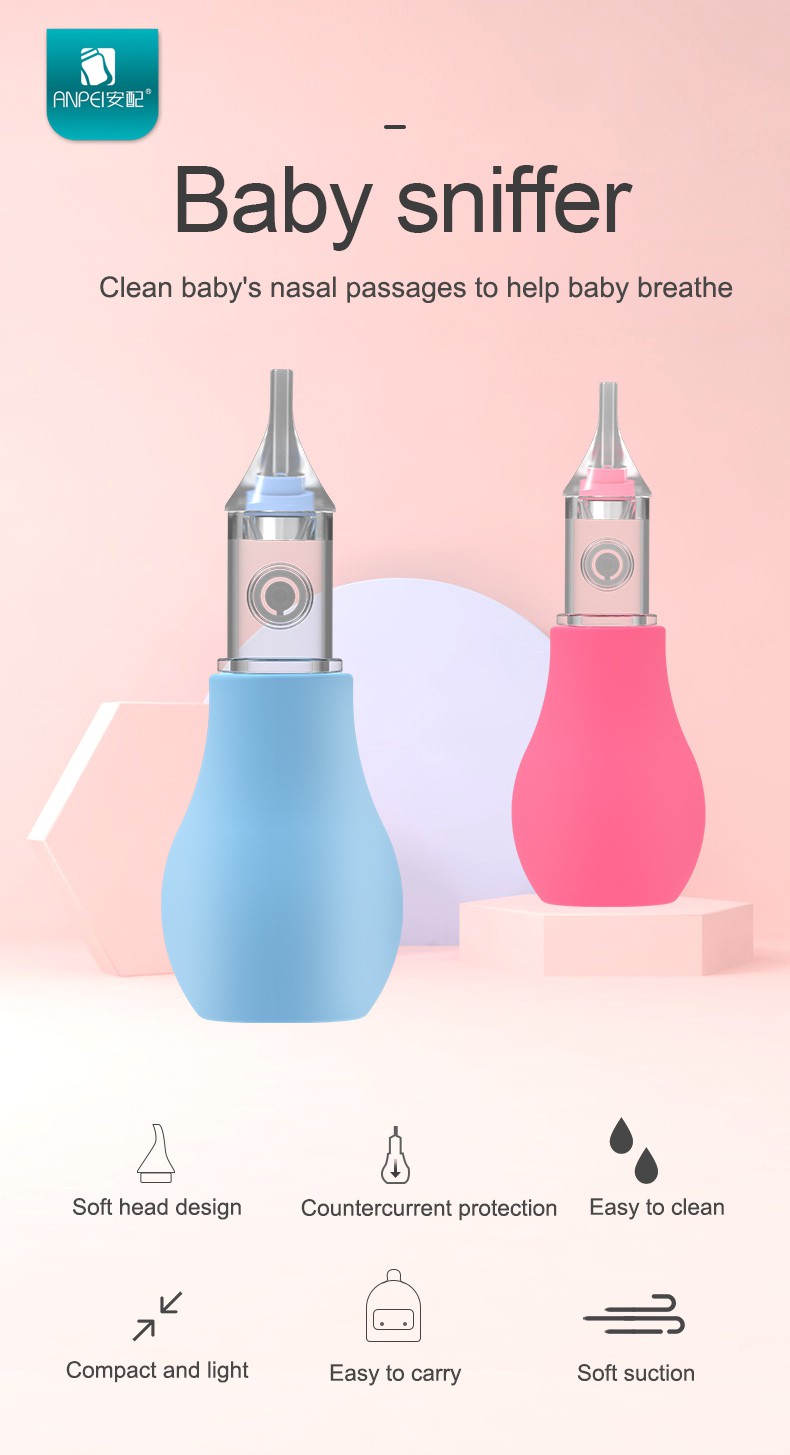 When the baby has a nasal plug or nasal plug, to timely treatment, their own nose is relatively small, can not be used to dig out the adult method, then you can use a nasal suction device to help the baby.Silicone nasal soft nursing baby nasal cavity, prevent nasal flow, safety will not make the gas into the baby's nasal cavity, easy to use parts can be removed and clean
Parametru di produttu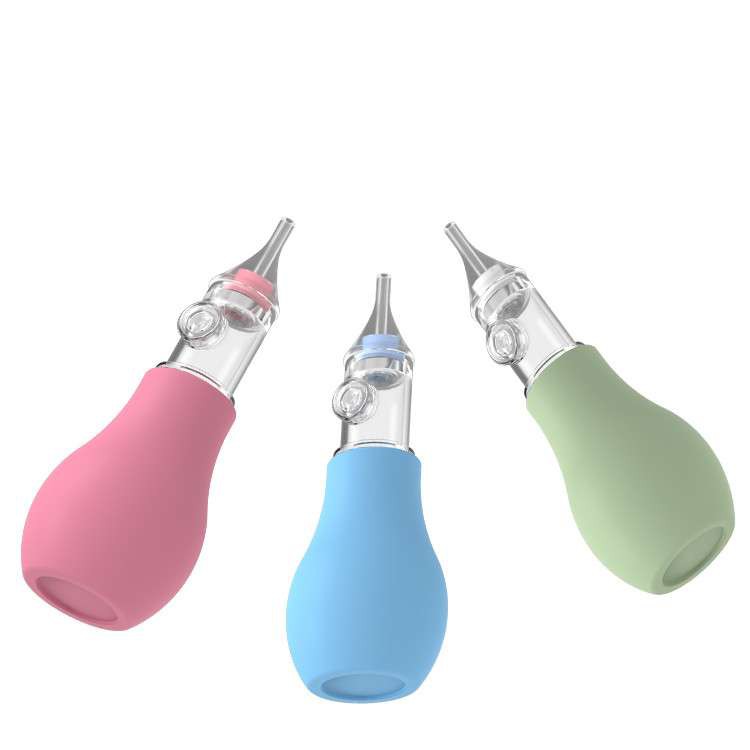 Materiale

Silica Gel

,

PP

Material characteristics

Does not contain BPA

Culore
Verde
Pesu
40g
Pacchettu
Oppbag, saccu di plasticu, blister + carta di carta, scatula di culore, persunalizabile
Pagamentu
TT, Paypal, ali creditu, unione occidentale, MoneyGram
Certificati
Certificazione naziunale di qualità alimentaria, pò furnisce requisiti di certificazione in ogni locu
Spedizioni:
7~ 15days tempu piombu. Da DHL / TNT / FedEx express, trasportu aereu ecc.

Cunsegna & Serviziu:
Consegna puntuale ogni volta. Fornite un serviziu affidabile è rispunsevule per ogni cliente cù ogni pruduttu. U nostru scopu hè di suddisfà ogni cliente cù u megliu serviziu.
Vantaghji prodottu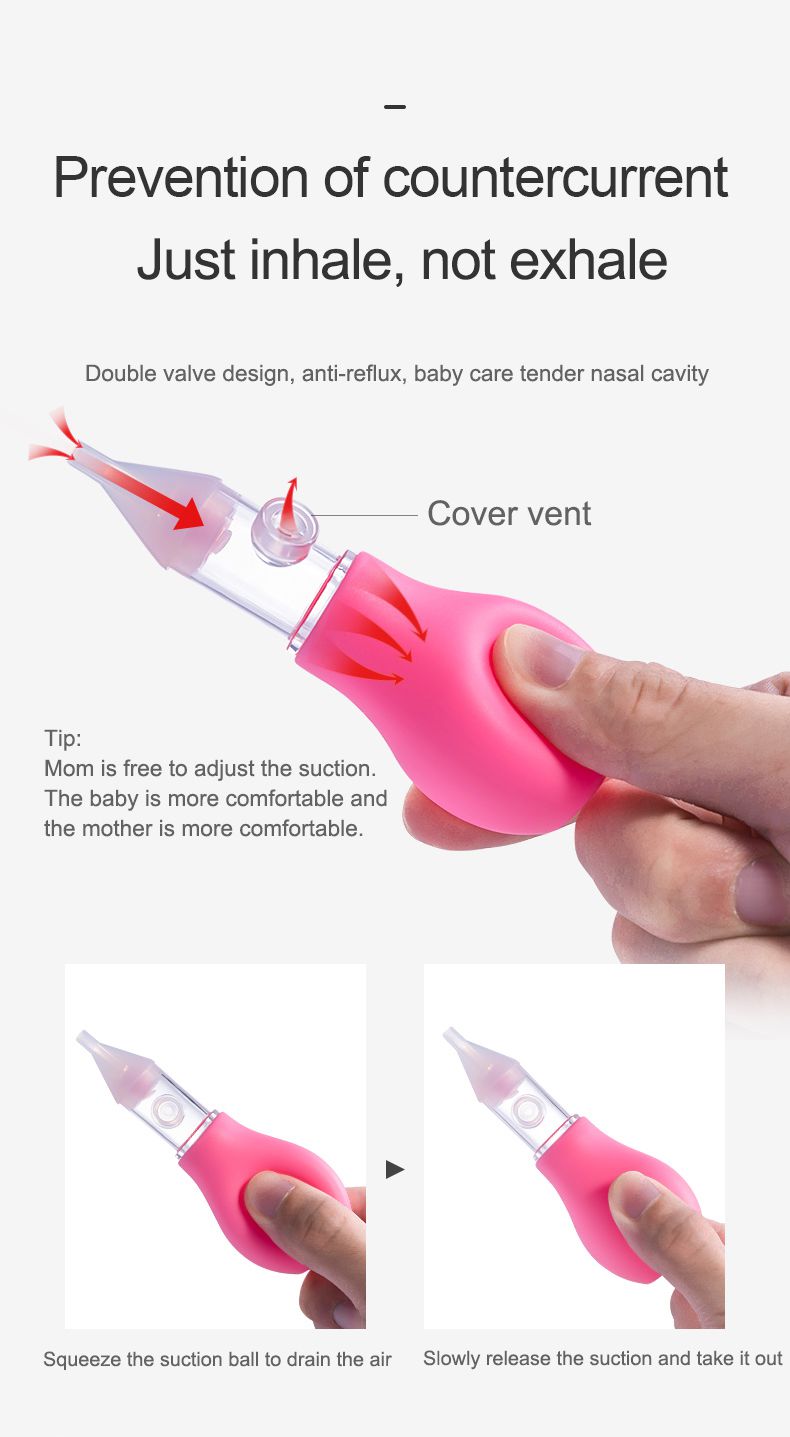 Antireflux nasal suction device for infants

,

easy nasal suction to relieve nasal congestion

,

soft head design for antireflux soft suction easy to clean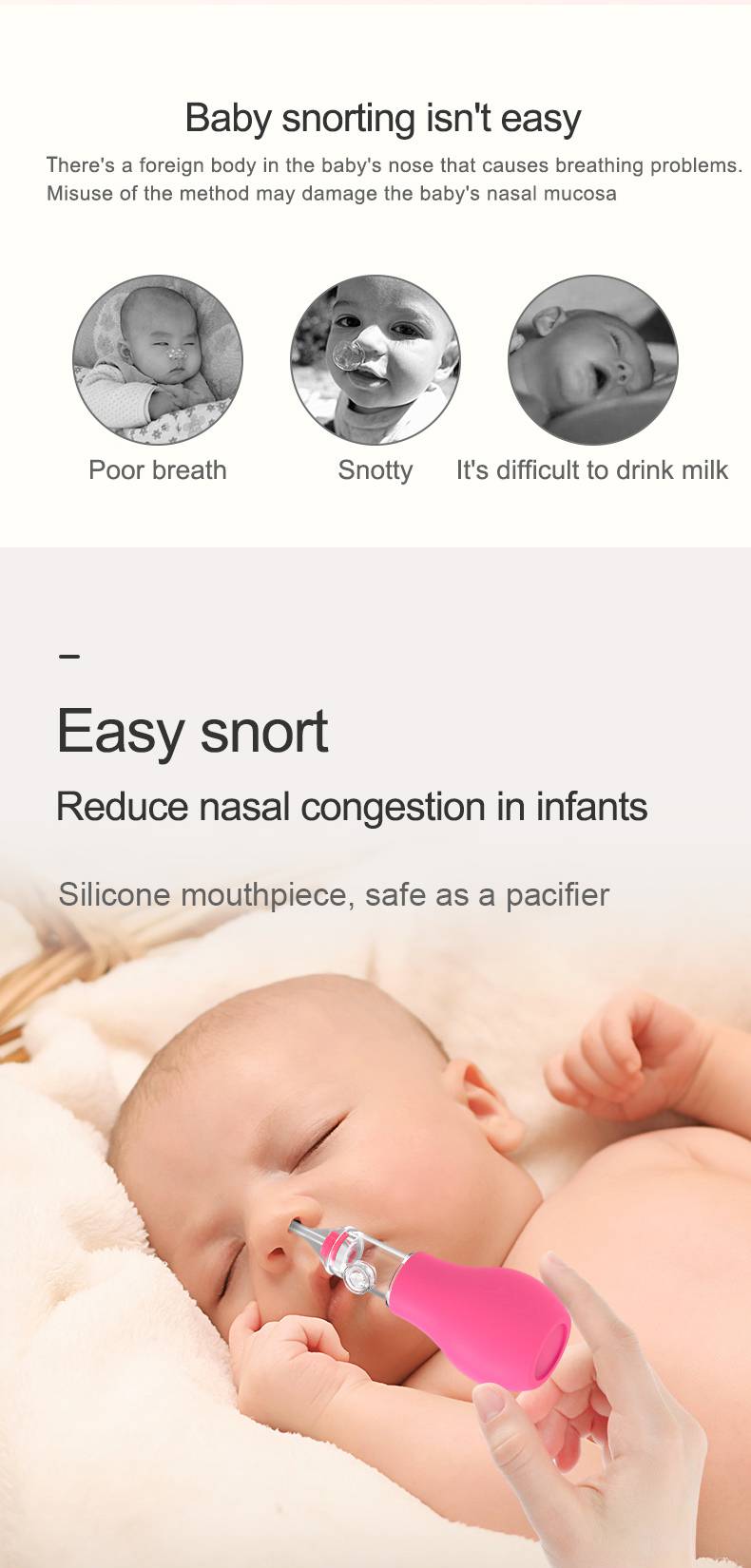 Nasal suction is not easy for the baby uncomfortable crying

,

baby's nose foreign body leads to poor breathing

,

the traditional way of removal takes time and effort

,

the baby crying

,

do not abuse the method to hurt the baby's nasal mucosa

Don't worry about cleaning the baby

,

clean the baby's nose at ease

,

don't hurt the nasal cavity

,

don't stimulate the nasal mucosa

Soft silicone suction head is as safe as a pacifier

.

Soft silicone suction head is the same material as a pacifier

Anti-adverse flow design

,

set your mind at cleaning the baby's nasal discharge process

,

one-way air intake

,

to prevent the nasal discharge has been cleared

,

use more assured

The mother can freely adjust the size of the suction and the baby is more comfortable and the mother is more assured

.

The soft silicone head is very comfortable to use

,

and the soft silicone head does not poke the nasal cavity or stimulate the nasal mucosa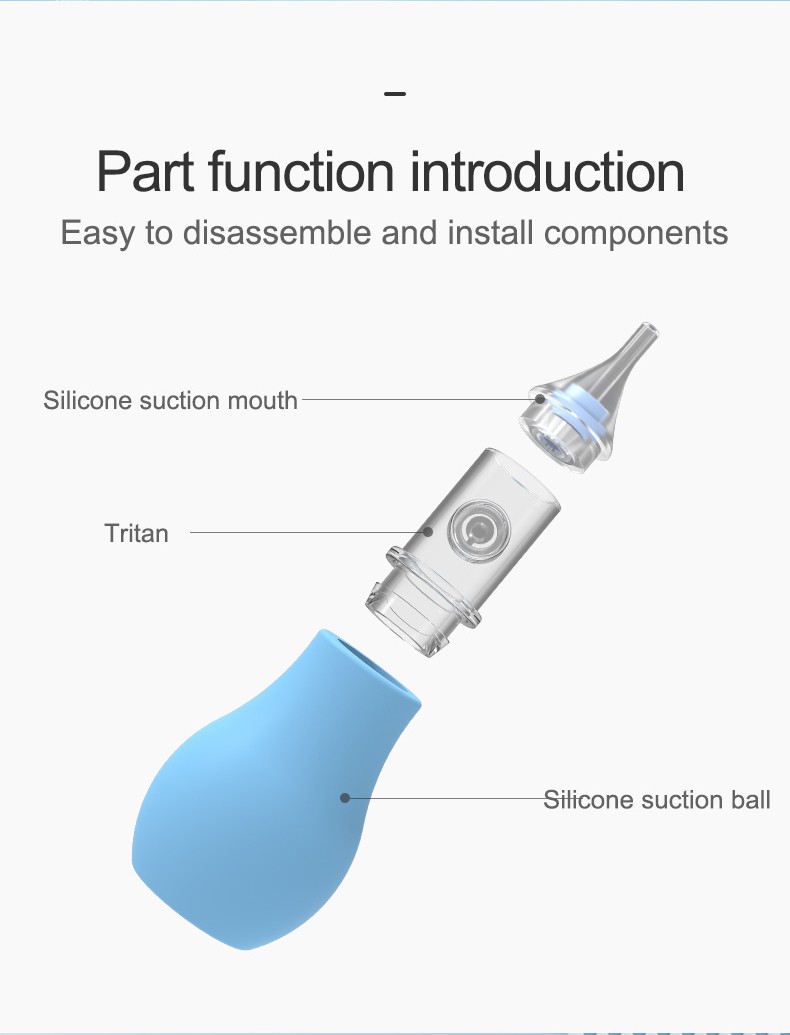 Easy removal and installation of accessories

,

silicone suction nozzle

,

soft suction nozzle

,

no damage to nasal mucosa

,

PP suction tube nasal suction way

Silicone ball suction

,

by squeezing the ball suction nasal mucus inhalation

,

detachable design whole body water

,

parts can be removed

,

easy to clean

,

unlimited use

,

farewell to the second consumption

,

mother rest assured use
Applicazioni

When the baby has a nose or nasal congestion, to promptly deal with, their nose is relatively small, can not be used to dig out the adult method, this time we can use baby nasal suction to help.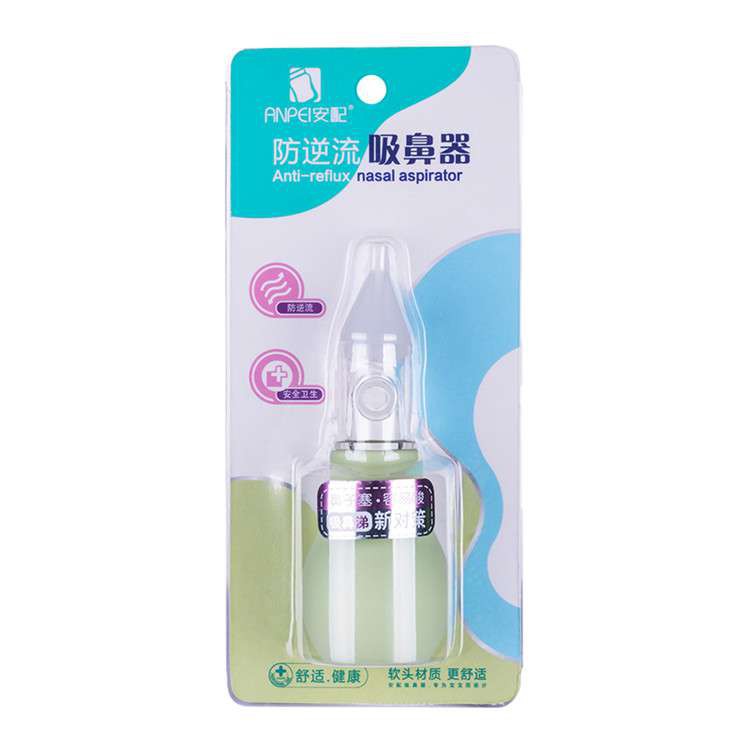 Assicuranza di qualità

Tutti i prudutti prototipi devenu passà 4 cuntrolli in tuttu u prucessu:
1. Ispezzione di materia prima
2. In l'ispezione di trasfurmazione
3. Ispezzione finale
4. Ispezzione in uscita
FAQ

1.Site una sucietà commerciale o un produttore?
A:Semu un fabricatore prufessiunale cun più di 10 anni sperienze.
2.Possu visità a vostra fabbrica prima di l'ordine?
A:Iè, benvenuti à visità a nostra fabbrica.
3.Cumu cuntrollà a qualità di i prudutti?
A:Avemu sempre messu una grande enfasi nantu à u cuntrollu di qualità per assicurà chì u livellu di qualità eccellente sia mantenutu, u principiu chì mantenemu sempre hè "per furnisce à i clienti una migliore qualità, megliu prezzu è megliu serviziu".
4.Pudete mandà campione per noi?
A:Iè, pudemu mandà un campione gratuitamente, ma u trasportu di merci.
5.Pudete accettà un picculu ordine?
A:Iè, pudemu accettà ordini di prova, it is the startingof business. But according to different productthe price may be higher as normal quantity.
Cuntatta ci.
A: Pudete cuntattateci per e-mail
Tags:
Mandate u vostru messagiu: