Biberoni in silicone morbidi anti-crash non tossici di qualità alimentaria
Dettaglio di u Produttu
Feedback avà
Biberoni in silicone morbidi anti-crash non tossici di qualità alimentaria


Biberon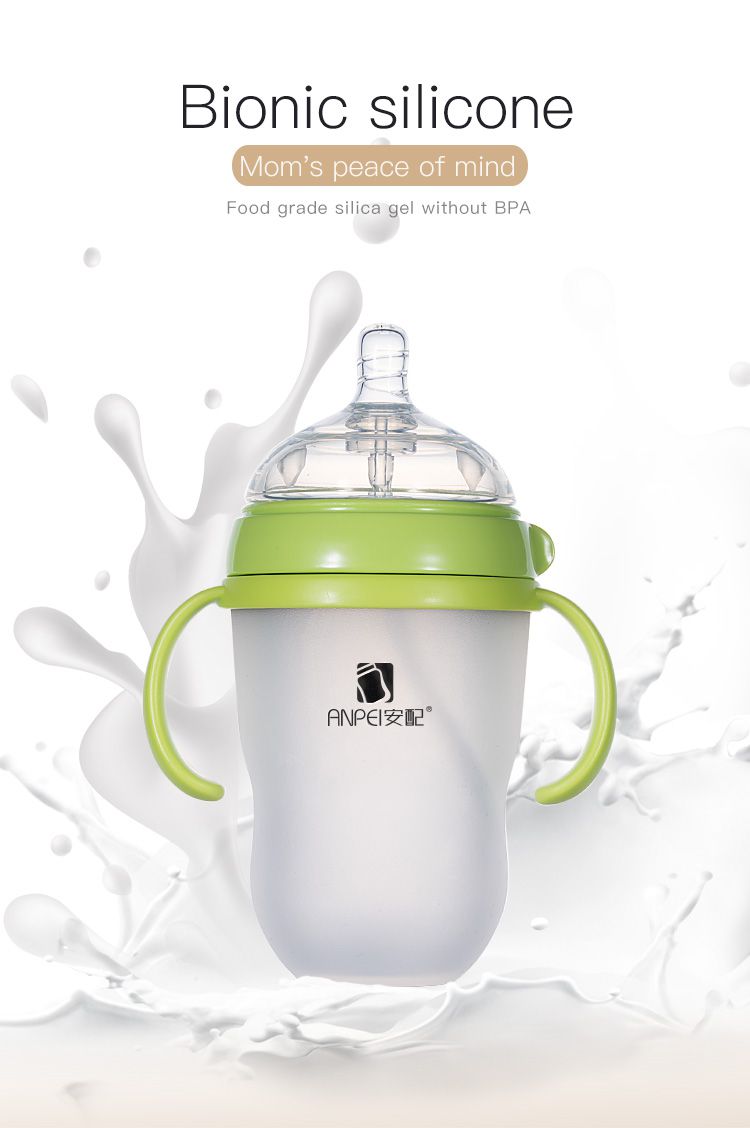 No bisphenol A, no harmful substances, the bottle is soft, not broken, will not touch the baby's teeth and oral mucosa, just like the mother's skin, full of breast milk, can calm the baby's mood;The body of the bottle and the nipple are made of the same material -- food-grade silicone rubber, which is of high safety.Prevent bloating and choking on milk;High temperature sterilization thorough, aging resistance, no deformation;Water boiling, steam disinfection can be
Parametru di produttu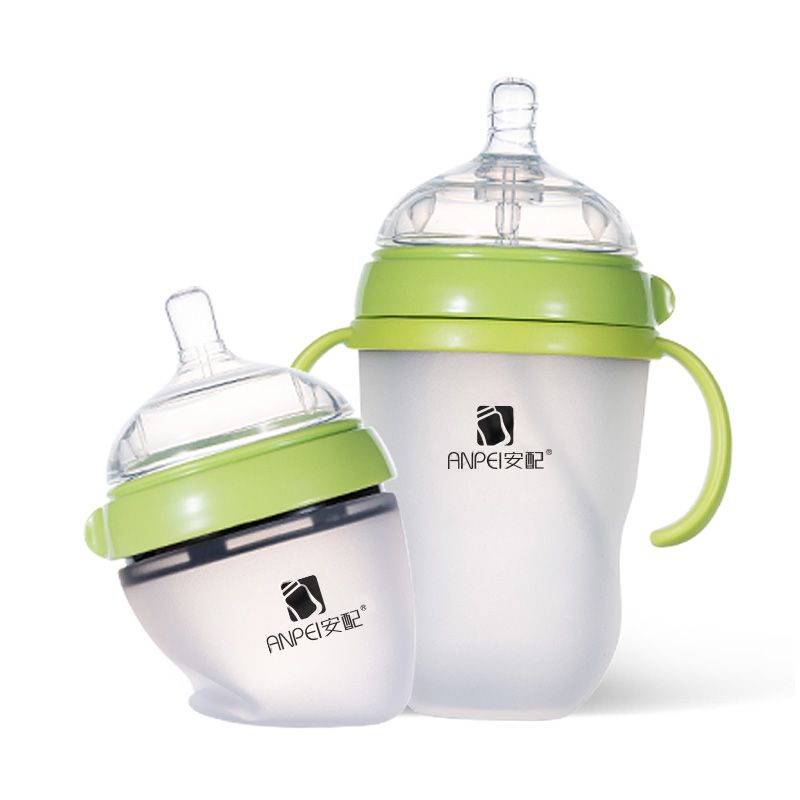 Materiale

Silica Gel

,

PP

,

stainless steel

capacity

150

ml

,250

ml

Culore

Pink

, Verde
Pesu
133g,202g
Pacchettu
Oppbag, saccu di plasticu, blister + carta di carta, scatula di culore, persunalizabile
Pagamentu
TT, Paypal, ali creditu, unione occidentale, MoneyGram
Certificati
Certificazione naziunale di qualità alimentaria, pò furnisce requisiti di certificazione in ogni locu
Spedizioni
7~ 15days tempu piombu. Da DHL / TNT / FedEx express, trasportu aereu ecc.
Cunsegna & Serviziu
Consegna puntuale ogni volta. Fornite un serviziu affidabile è rispunsevule per ogni cliente cù ogni pruduttu. U nostru scopu hè di suddisfà ogni cliente cù u megliu serviziu.
Vantaghji prodottu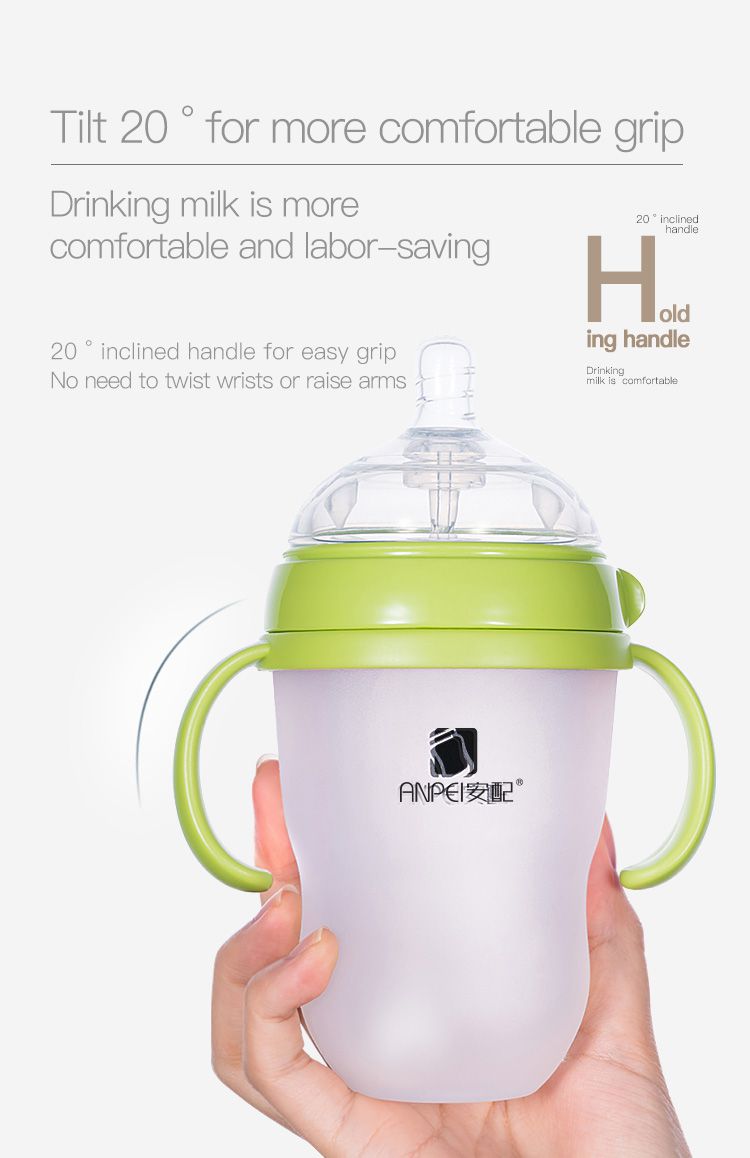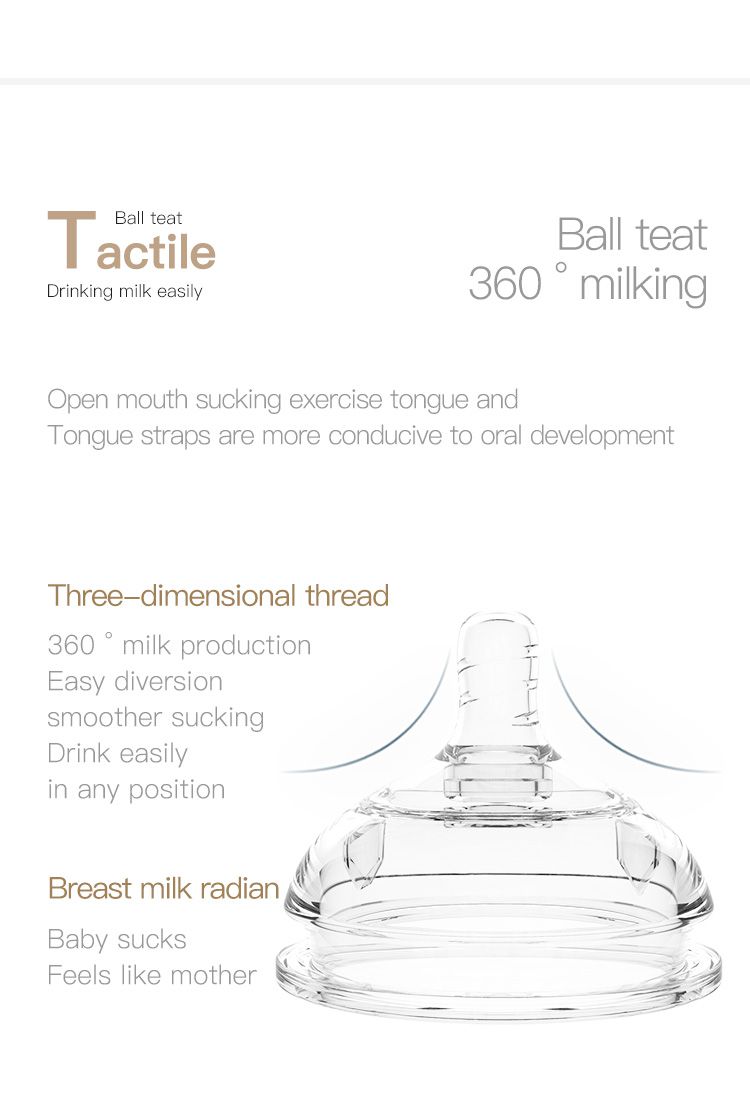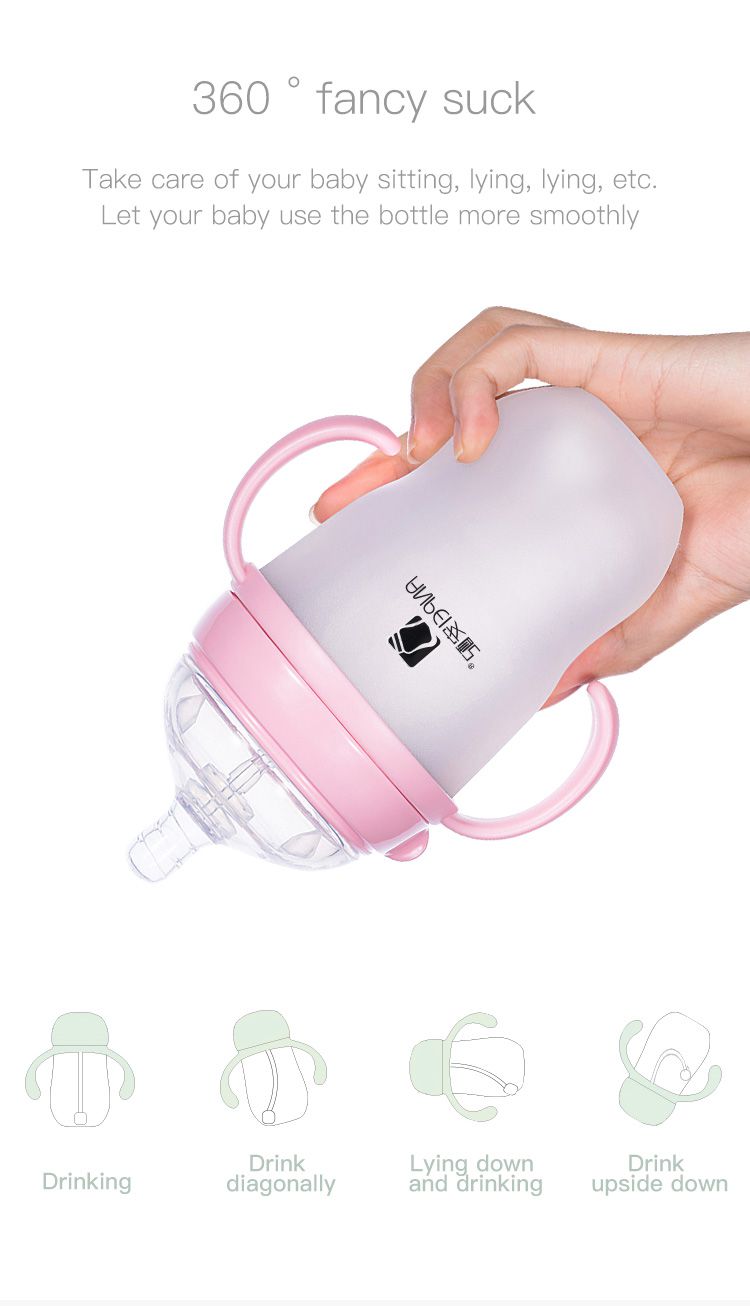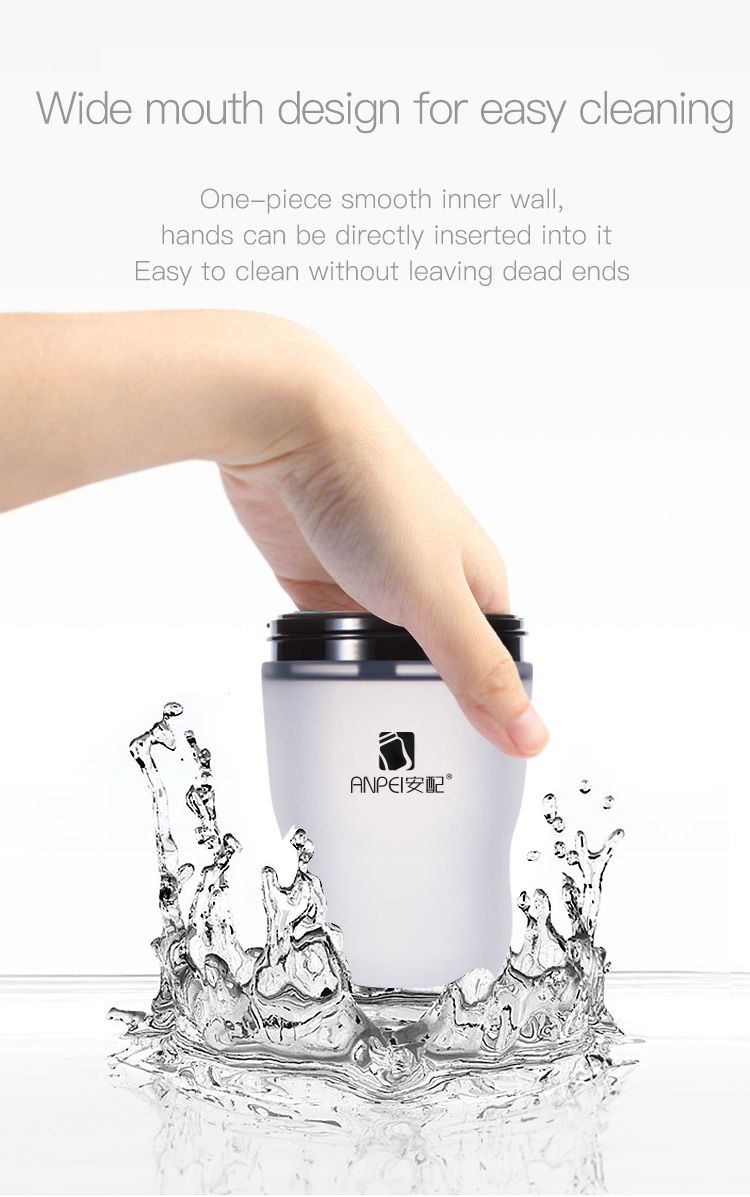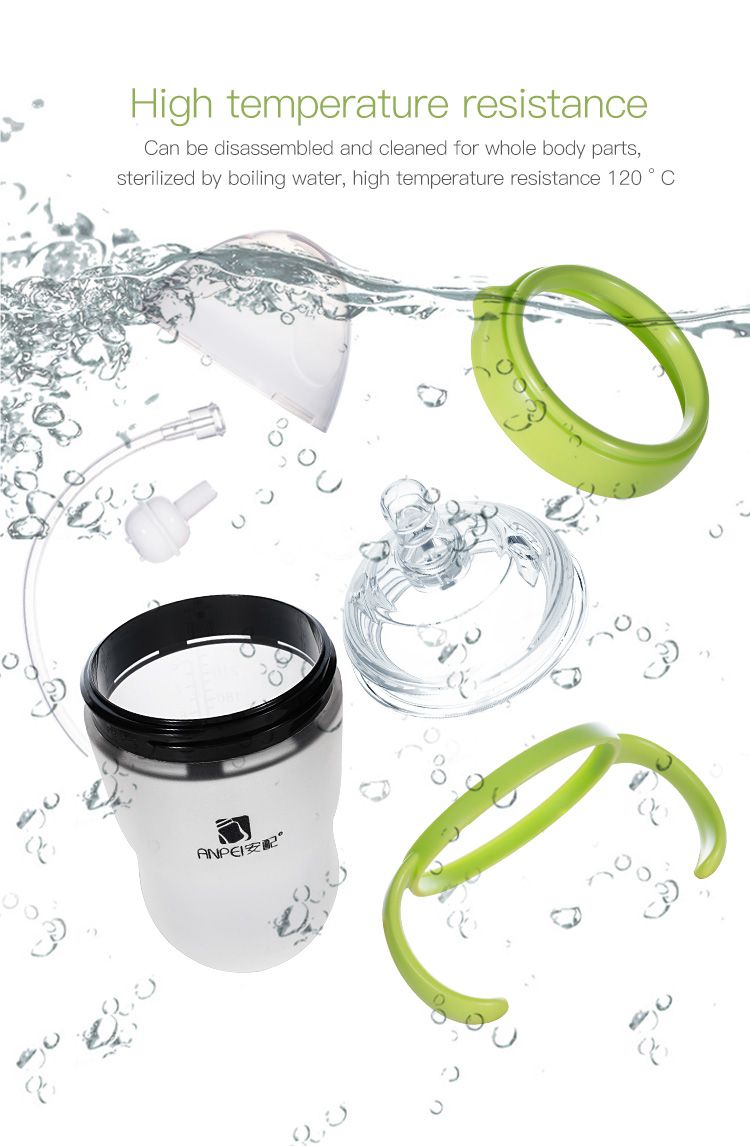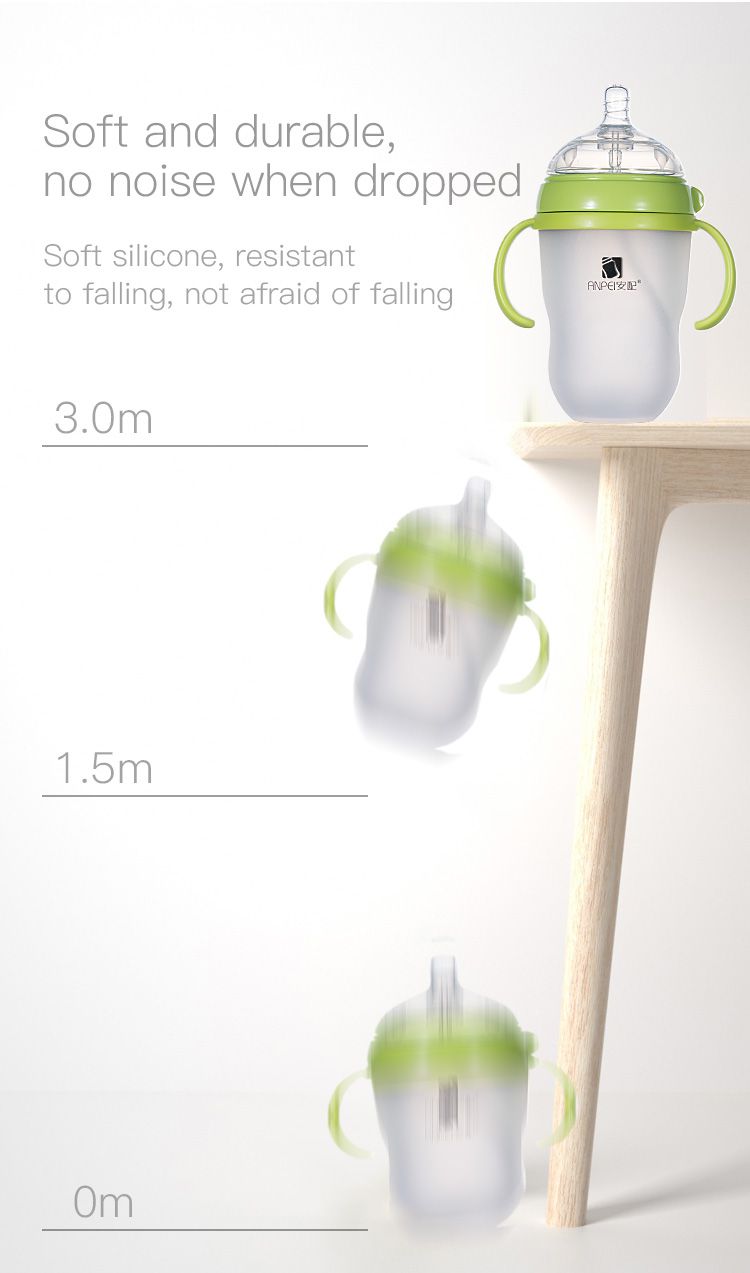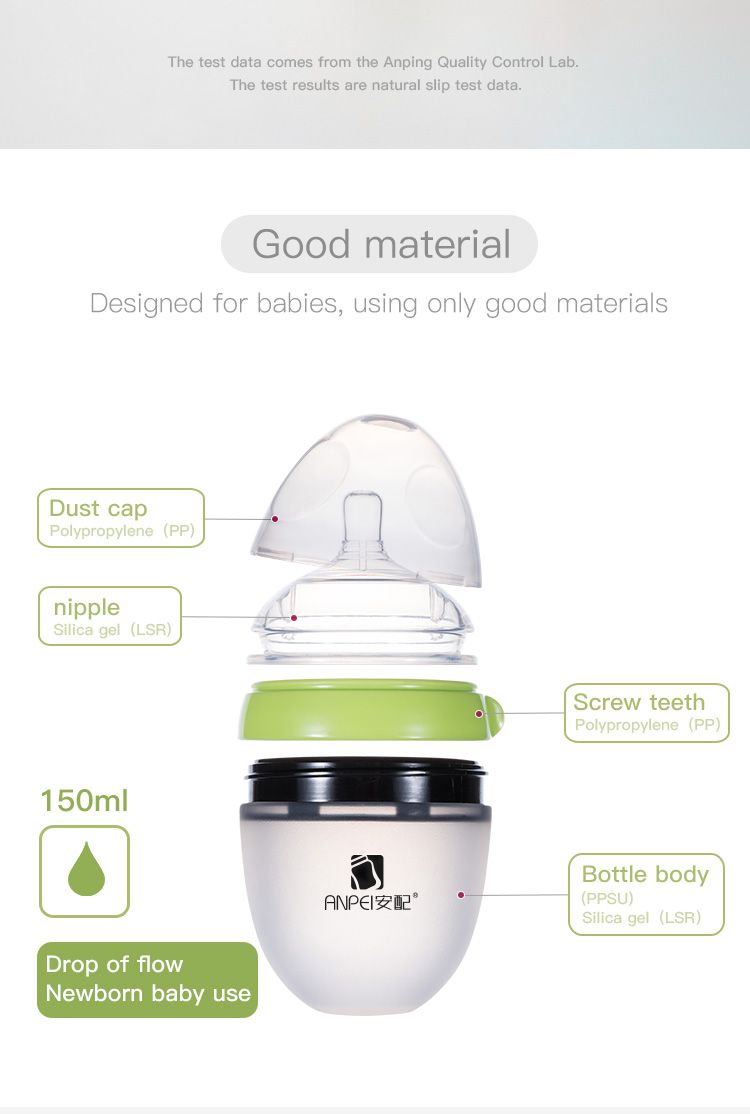 1. The bottle is made of top medical grade non-toxic silicone, light and transparent, not easy to break and easy to use.Round arc design, can protect the baby's hand from deformation, but also can exercise the baby's ability to control objects.
2. The nipple is also made of silica gel, which is non-toxic, tasteless and emulates the design of breast milk.The flexible foot of the nipple is not easy to deform and is very important to promote the natural sucking of the baby.Special side air hole design has been applied for patent, let the baby suck smoothly, at the same time can effectively avoid the occurrence of choking, milk swelling and other phenomena.
3, wide diameter bottle to promote the baby's mouth open, fully promote peristaltic movement, conducive to the development of the baby's chin.
4, the bottle and nipple can withstand high temperature, can be boiled in water disinfection, service life up to 15 years.
5, silicone bottle round shape, very cute, very Q, more unique is its soft design, the back can be squeezed, can promote the baby to drink milk.
6. The mouth of the extra-large bottle is easy to clean and adjust, and the bottle body is comfortable to hold.It is easier to adjust and clean.The personalized wide mouth design with a diameter of 6.6cm makes it more convenient for mothers to brew milk powder.Wide mouth design and soft silicone bottle body can be more in the cleaning can eliminate the bad milk bottle brush, so that the cleaning and disinfection work become more simple and easy.
7. Silica gel is easy to touch dust due to its material quality.So in the design, in addition to beautiful, but also to consider his dustproof.Made a part of the bottle into a scrub;This not only ensures the beauty of the product, but also takes care of the dust control of the product;You can kill two birds with one stone.
8. The safe and harmless material of silicone milk bottle is very similar to human skin. A good touch is conducive to the emotional stability of the baby and the development of the baby's emotional intelligence, which is incomparable to other material milk bottles.This makes it become from the breast milk baby to the bottle baby adaptation period is the shortest bottle, become many mothers and babies like the bottle!
Applicazioni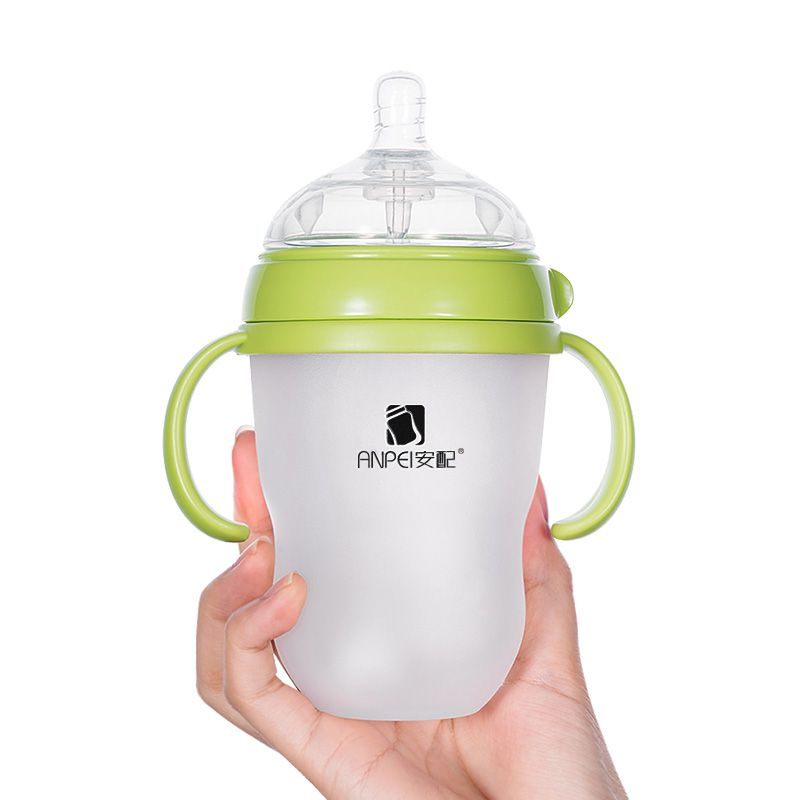 Assicuranza di qualità

Tutti i prudutti prototipi devenu passà 4 cuntrolli in tuttu u prucessu:
1. Ispezzione di materia prima
2. In l'ispezione di trasfurmazione
3. Ispezzione finale
4. Ispezzione in uscita
FAQ

1.Site una sucietà commerciale o un produttore?
A:Semu un fabricatore prufessiunale cun più di 10 anni sperienze.
2.Possu visità a vostra fabbrica prima di l'ordine?
A:Iè, benvenuti à visità a nostra fabbrica.
3.Cumu cuntrollà a qualità di i prudutti?
A:Avemu sempre messu una grande enfasi nantu à u cuntrollu di qualità per assicurà chì u livellu di qualità eccellente sia mantenutu, u principiu chì mantenemu sempre hè "per furnisce à i clienti una migliore qualità, megliu prezzu è megliu serviziu".
4.Pudete mandà campione per noi?
A:Iè, pudemu mandà un campione gratuitamente, ma u trasportu di merci.
5.Pudete accettà un picculu ordine?
A:Iè, pudemu accettà ordini di prova, it is the startingof business. But according to different productthe price may be higher as normal quantity.
Cuntatta ci.
A: Pudete cuntattateci per e-mail
Mandate u vostru messagiu:
Raccomandazione di u pruduttu