Biberon anti-goccia di vetru ultra largu diametru di alta qualità
Dettaglio di u Produttu
Feedback avà
Biberon anti-goccia di vetru ultra largu diametru di alta qualità

Biberon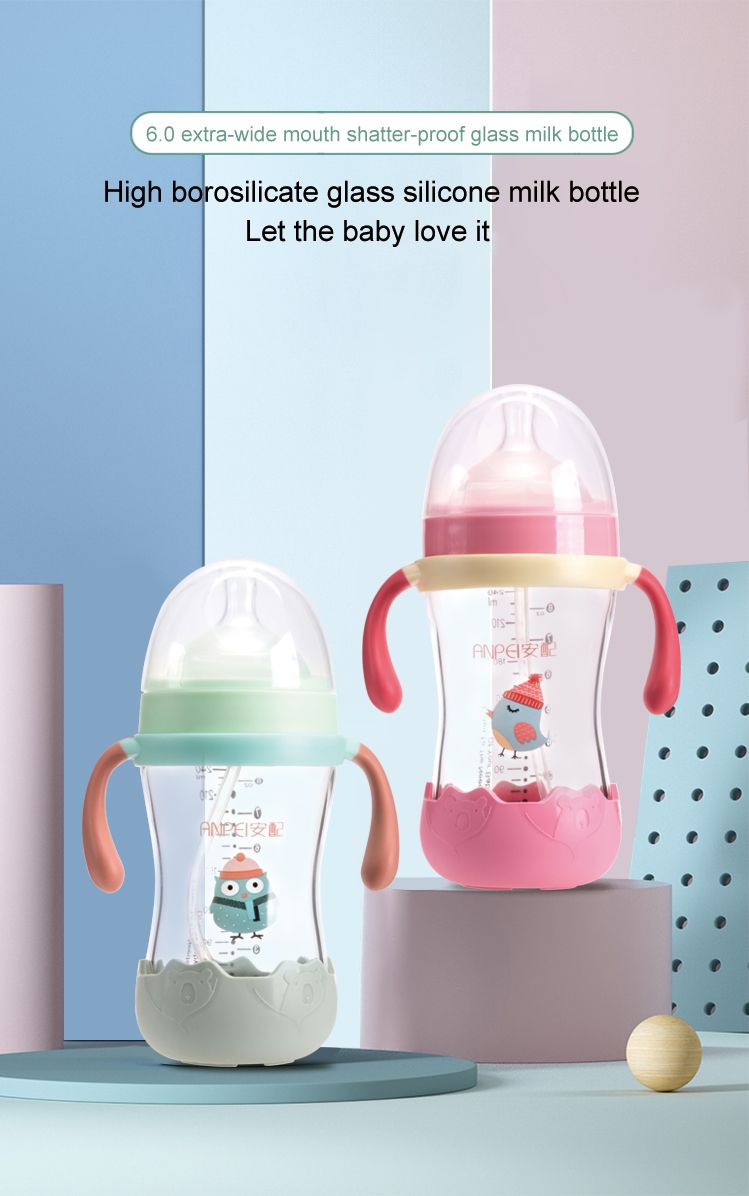 Glass baby bottle is a commonly used baby bottle, more common in the market, compared with plastic baby bottle, more worthy of new mother to buy, because of the material safety, transparency, high temperature resistance, not easy to hide dirt, easy to clean the advantages.
Parametru di produttu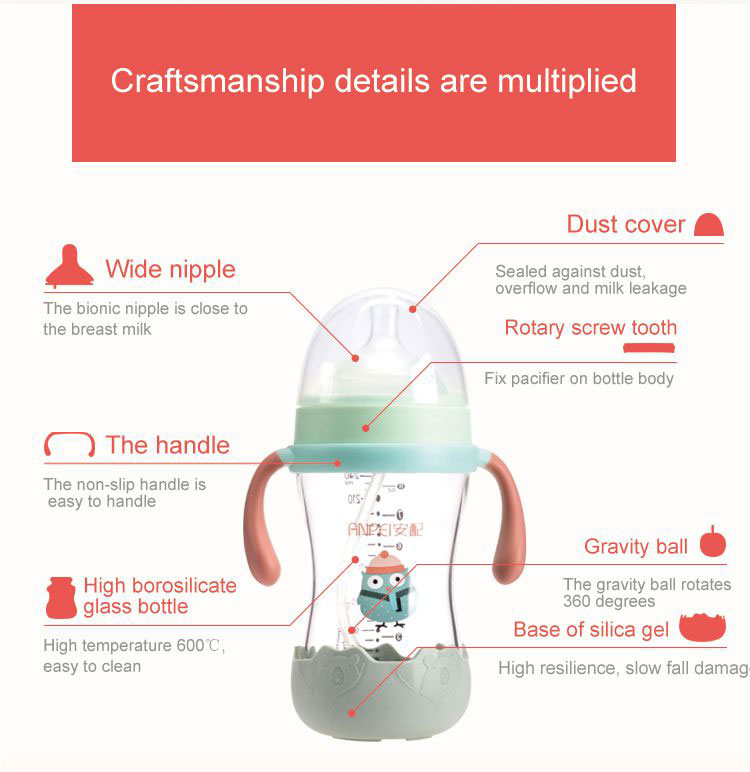 Materiale

Silica Gel

,

High borosilicate

,

PP

,

stainless steel

Capacity

180

ml

,240

ml

Culore

Pink

,

blue

Pesu
275g、289g
Pacchettu
Oppbag, saccu di plasticu, blister + carta di carta, scatula di culore, persunalizabile
Pagamentu
TT, Paypal, ali creditu, unione occidentale, MoneyGram
Certificati
Certificazione naziunale di qualità alimentaria, pò furnisce requisiti di certificazione in ogni locu
Spedizioni:
7~ 15days tempu piombu. Da DHL / TNT / FedEx express, trasportu aereu ecc.
Cunsegna & Serviziu:
Consegna puntuale ogni volta. Fornite un serviziu affidabile è rispunsevule per ogni cliente cù ogni pruduttu. U nostru scopu hè di suddisfà ogni cliente cù u megliu serviziu.
Vantaghji prodottu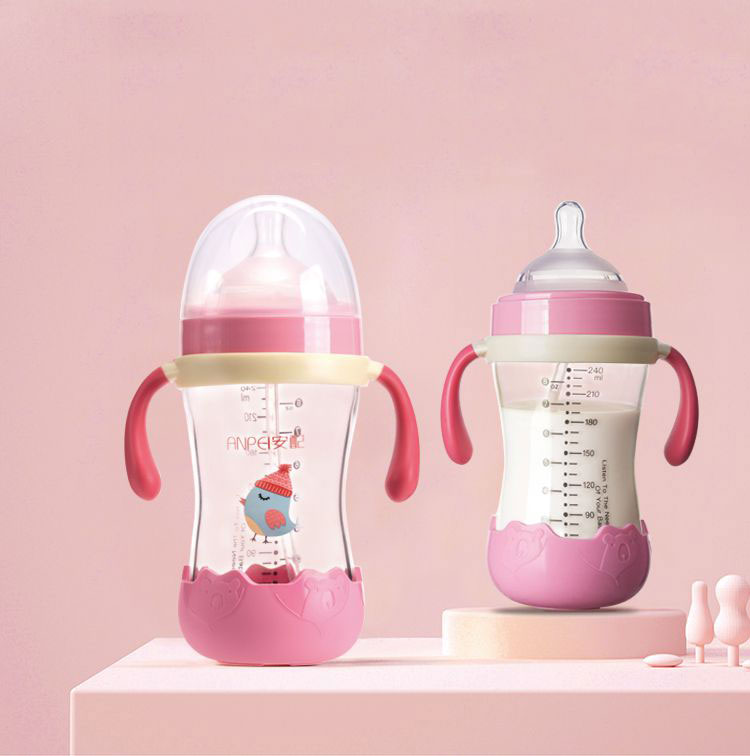 High borosilicate glass

,

transparent

,

reflecting pleasant light and shadow

,

more stable glass material

,

more pure vision of high transmittance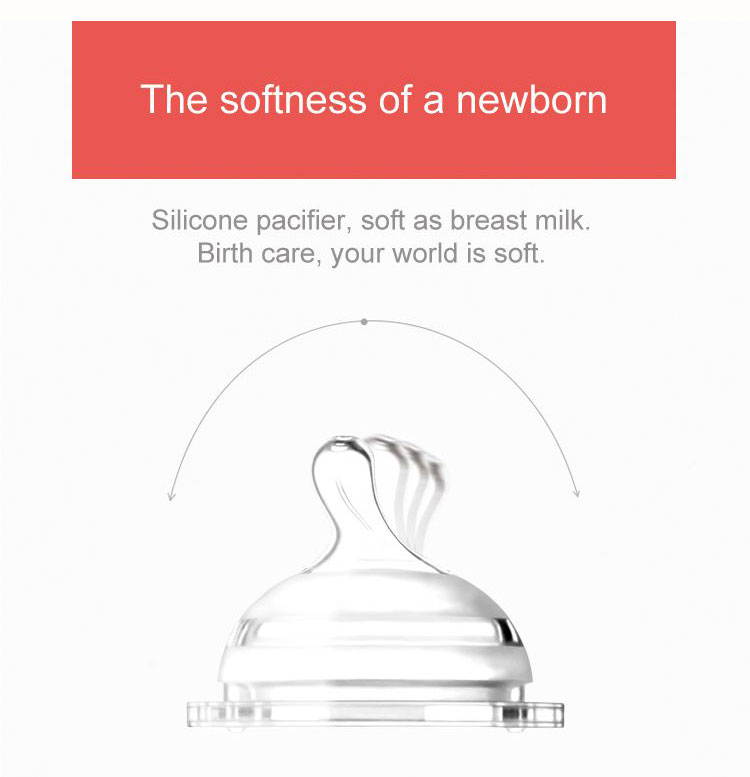 Soft silicone nipple for newborns

,

as soft as breast milk.Your world is soft after birth

.

Imitation of the appearance of the mother's milk at the beginning of peace of mind

,

simulation of the mother's milk appearance design

,

natural radian

,

fit the baby's mouth sucking

.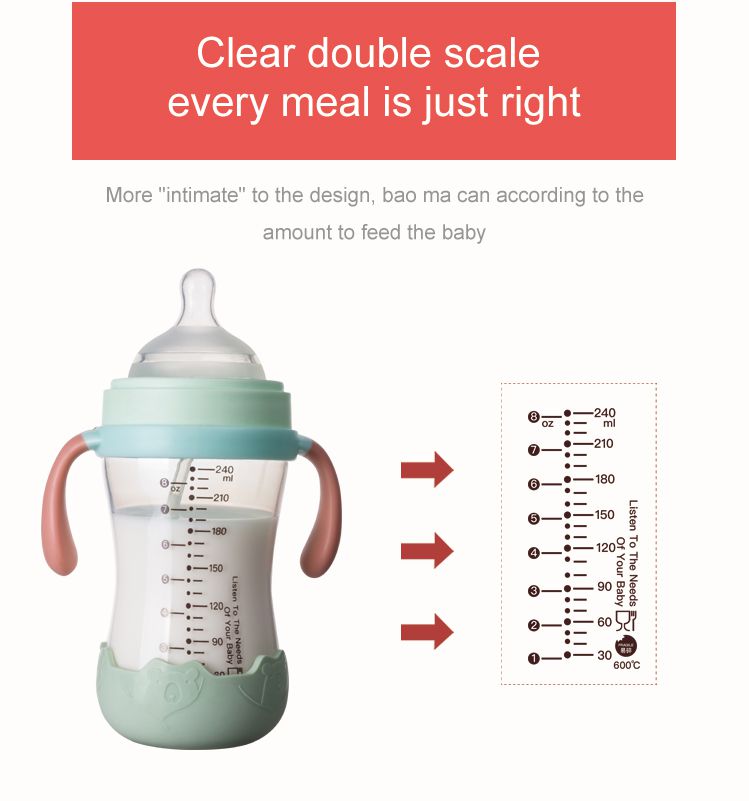 The original standard nipple

(

size L

) (

age

:

over

6

months

)

can flexibly control the flow according to the sucking capacity of the baby at different stages

,

so that the excessive flow will not lead to milk choking

.
5.4 different flow pacifiers, small flow, medium flow, large flow and variable flow, can be replaced and used according to different stages of the baby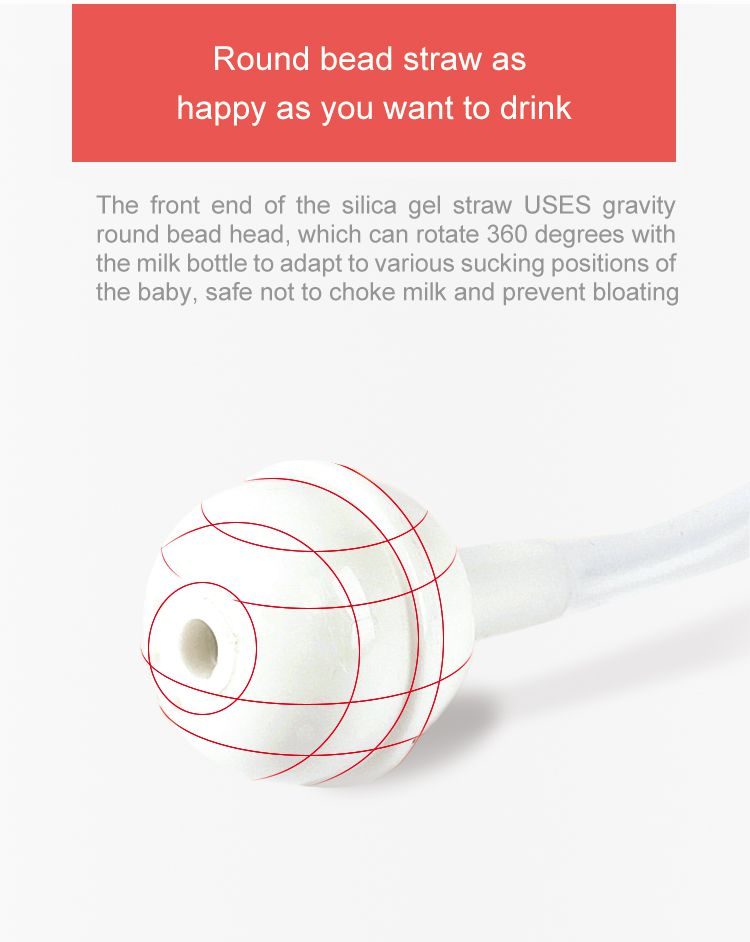 Round bead straw can be drunk as you like

.

The front end of the silicone straw USES gravity round bead head

,

which can rotate

360

degrees with the bottle to adapt to the baby's various sucking positions

Sealed and dustproof

,

anti-overflow and milk leakage

,

rotating screw teeth _ fixed nipple on the bottle body

,

easy to grasp the anti-slip handle

, 360

° rotation of the gravity ball

,

high temperature resistance 600C

,

easy to clean

,

high resilience

,

slow down falling injury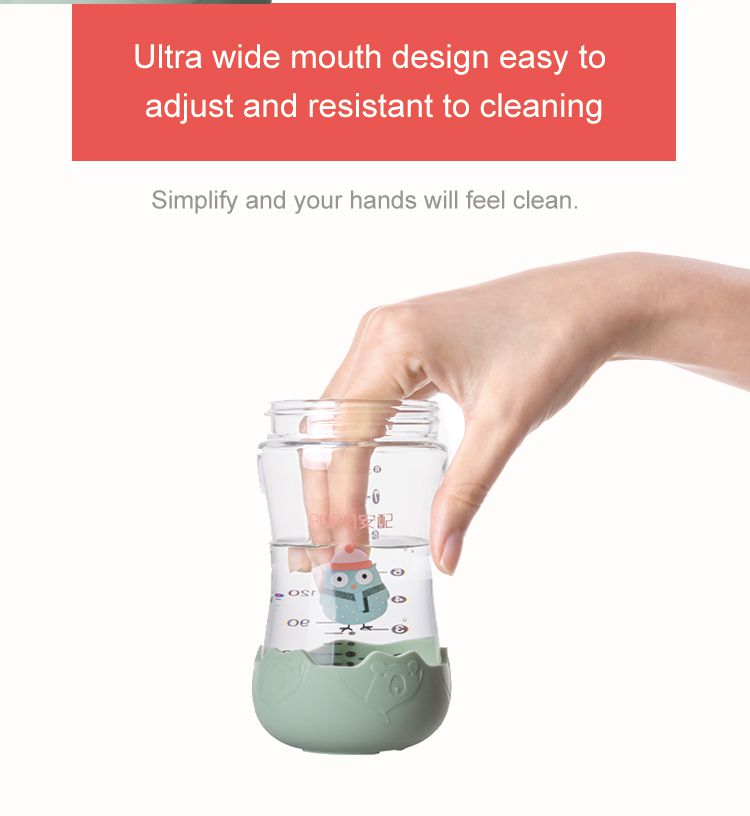 The design of ultra-wide mouth is easy to adjust and easy to clean

,

so that the hands can feel clean

.

Eat just right at each meal with clear double scale

,

which is more

"

considerate

"

to the design

.

Bao ma can feed her baby according to the quantity

High temperature resistance can be repeatedly disinfected

,

the whole body without dead corner disassembly cleaning

,

boiling

,

steam disinfection can be

.
Applicazioni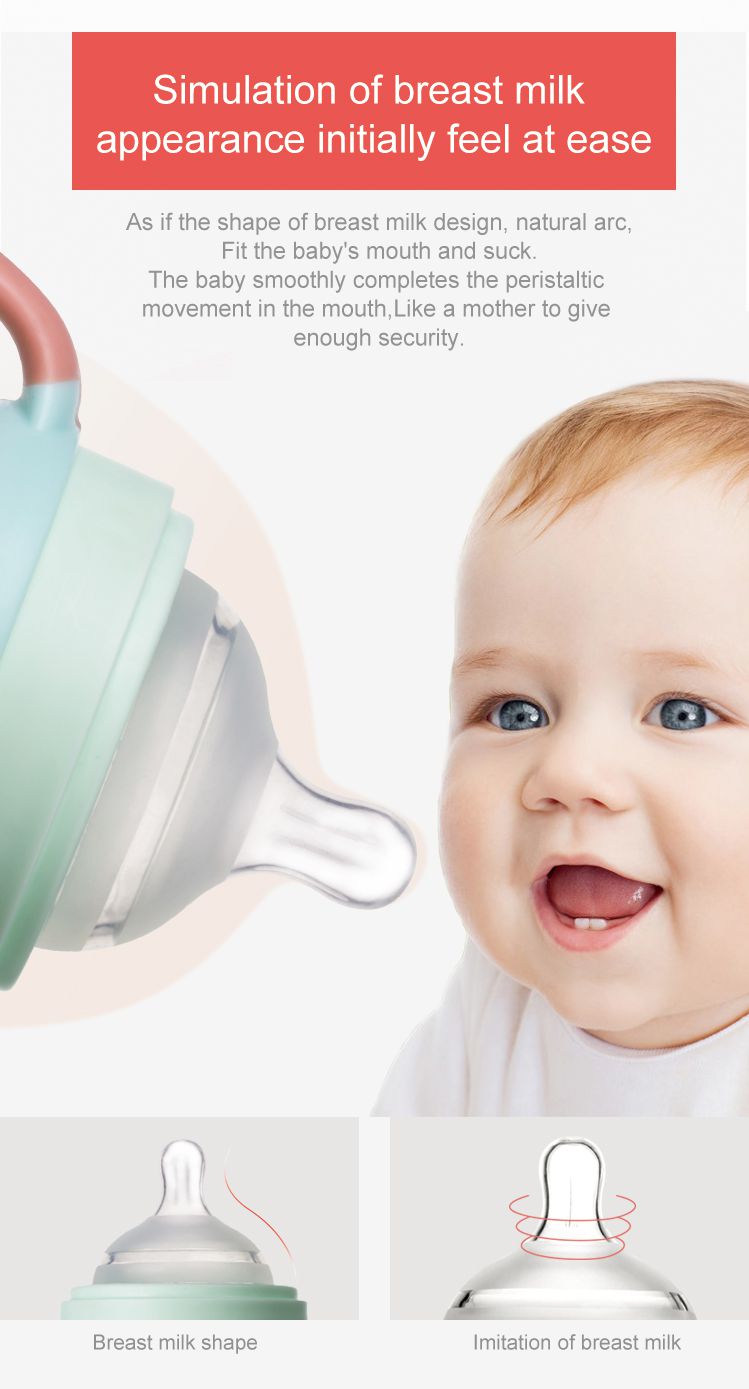 Quality assurance

Tutti i prudutti prototipi devenu passà 4 cuntrolli in tuttu u prucessu:
1. Ispezzione di materia prima
2. In l'ispezione di trasfurmazione
3. Ispezzione finale
4. Ispezzione in uscita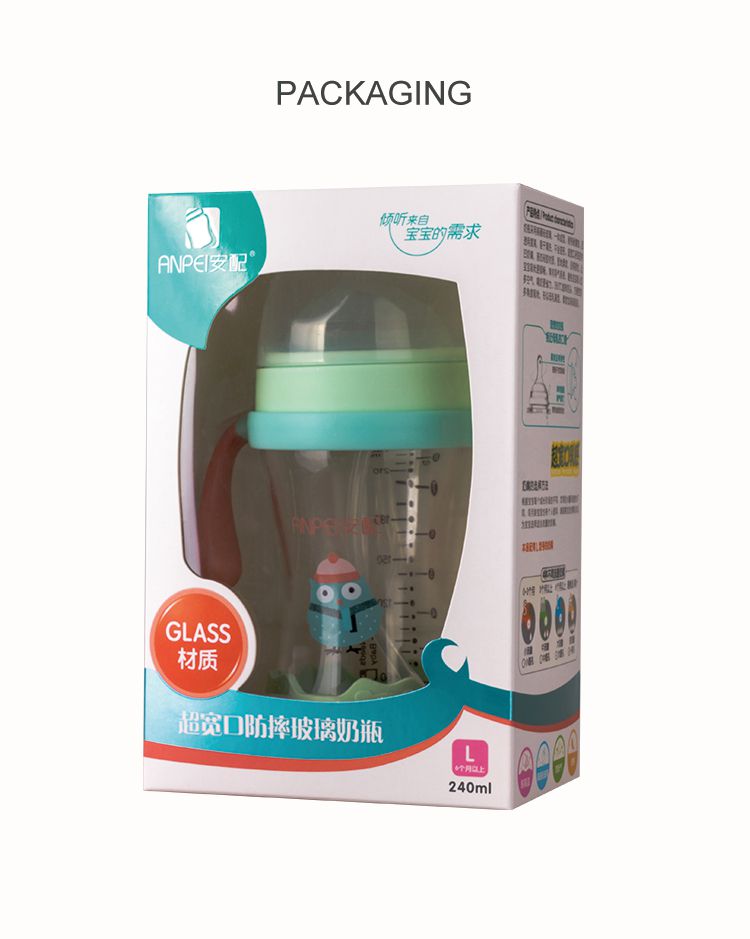 FAQ

1.Site una sucietà commerciale o un produttore?
A:Semu un fabricatore prufessiunale cun più di 10 anni sperienze.
2.Possu visità a vostra fabbrica prima di l'ordine?
A:Iè, benvenuti à visità a nostra fabbrica.
3.Cumu cuntrollà a qualità di i prudutti?
A:Avemu sempre messu una grande enfasi nantu à u cuntrollu di qualità per assicurà chì u livellu di qualità eccellente sia mantenutu, u principiu chì mantenemu sempre hè "per furnisce à i clienti una migliore qualità, megliu prezzu è megliu serviziu".
4.Pudete mandà campione per noi?
A:Iè, pudemu mandà un campione gratuitamente, ma u trasportu di merci.
5.Pudete accettà un picculu ordine?
A:Iè, pudemu accettà ordini di prova, it is the startingof business. But according to different productthe price may be higher as normal quantity.
Cuntatta ci.
A: Pudete cuntattateci per e-mail
Mandate u vostru messagiu: